Karsten is a Senior Lecturer at msa since 2014 running the MArch 5th and 6th year Unit/Atelier
USE_Urban and Spatial Experimentation
Atelier Ethos
Each student is encouraged to form an individual concept based on a thorough site analysis. The projects follow a (personal) narrative that is born out of the site's history and its inherent potential and which then transforms into an urban/spatial strategy and/or a building or structure that is developed through all design stages.
The Atelier also creates ongoing collaborations between the MArch Course and the Fine Art Department of the MSA.
Year 2017
Berlin Culture Forum / Forum for Berlin Culture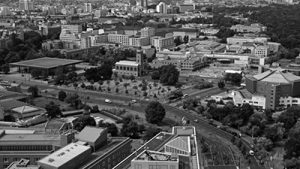 The topic for this year was to develop projects and spatial strategies in Berlin that investigate Berlin Culture. Berlin oozes artistic culture and celebrates it on the highest level as well as within the daily life society. But there is growing tension in the society caused by gentrification and its rising living costs. Will the boom eventually destroy Berlin Culture? What is Berlin Culture and how can it evolve?
The projects should explore the relationship between freedom and control in city development which poses the following questions: Are underdeveloped spaces or wastelands in the city benefitial?
When are we choosing to act and when not act and what is the framework from which we act within? How could planning and building strategies react to these issues and negotiate the complex realities of Berlin Culture?
Year 2016
Dortmund Union Quarter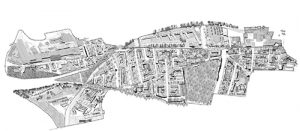 The topic for this year was to develop projects and spatial strategies for a site located along the Rheinische Strasse in Dortmund/Germany. The area is currently undergoing substantial changes as an urban regeneration area called Stadtumbaugebiet Rheinische Strasse. Students were free to work on different scales, from small interventions to buildings or urban strategies.
The first part of the task was a competition to stage interventions as part of the Favoriten Theater Festival 2016. Students form the Architecture and the Art department took part. Urbane Kuenste Ruhr (UKR) has funded the implementation of five works.
Year 2015
Transformation of the Albert Shed / Manchester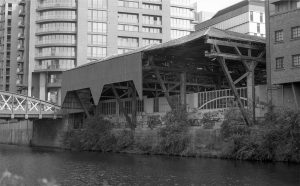 The task for the 5th year students was to develop a spatial strategy for a site located along the River Irwell at the corner of Water Street and Quay Street. Currently there is a very intriguing historical warehouse built around 1840, which hovers a few meters above the river.The typology of this building has been a recurring theme along the river and contains a huge potential in regards to future development. The new strategies for this building/site could vary from minimal interventions to substantial buildings with the ultimate aim to create a long-term use of the site. Through a thorough analysis and survey of the site as well as research about the building and the surrounding area strong concepts had to be explored.
These ideas have been developed in various steps throughout the year. The site is owned by the Council and partly used as a car park by the Marriott Hotel.